May 31st Update
Starting Wednesday, June 3, we will be having our Wednesday Bible study and prayer services INSIDE the building. The same social distancing guidelines and restrictions that are in place for Sunday morning will be in place for these services too. Scroll down and see the May 14th update to see the guidelines and practices that we are following.
The service starts at 7:00pm, with the doors opening at 6:45. We will be back in our series about the life of Elisha.
May 24th Update
We are very happy to announce that you are now able to listen to recordings of the Sunday morning sermons on our church website. Click the button below.
May 14th Update
After much prayer, we will be returning inside the building for Sunday morning services only. We will be having an 11:00 service Sunday morning, May 17. We are only able to have 25% occupancy for the service. See the graphic below for the details. If you have any questions please contact Pastor Paul via email (pastor@fundamental.church) or on his cell phone.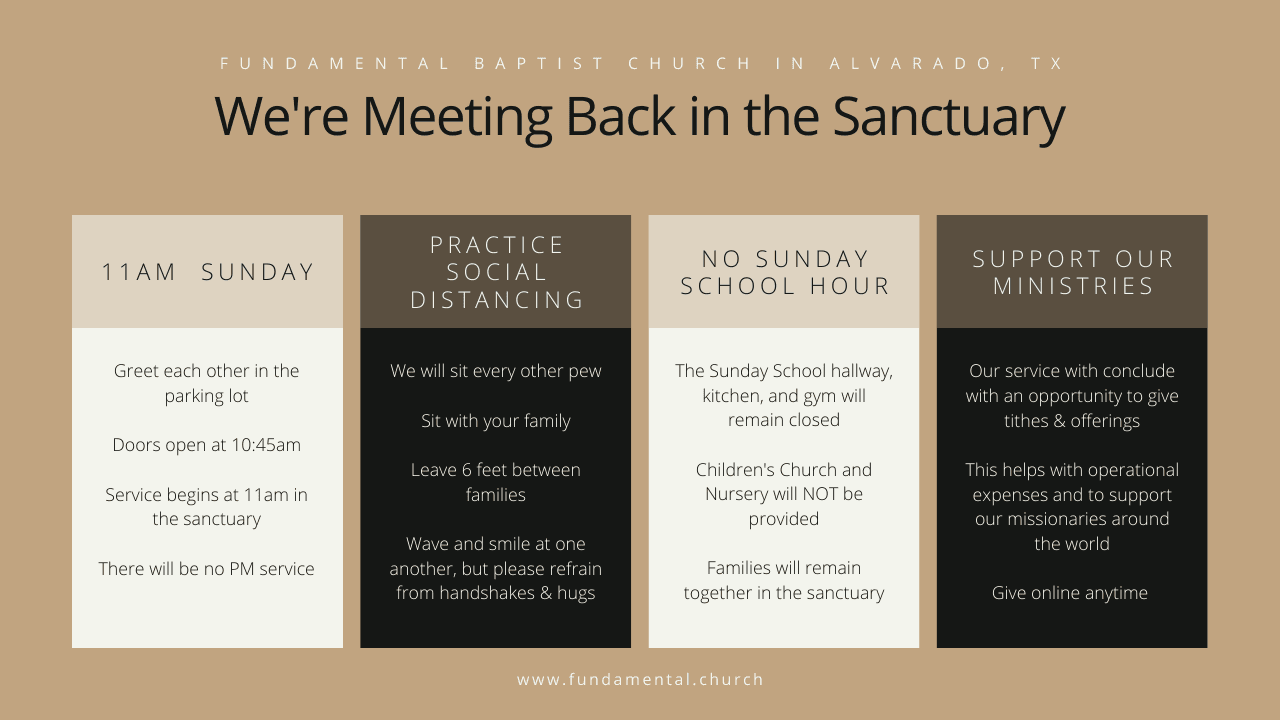 May 1st Update
Governor Abbott has begun the process to open the state of Texas back up. I want to encourage you to be praying for all the phases throughout this process. There are still several recommendations about church services that he has laid out in his plan. I want to remind you that the health and safety of our church family is my main concern as to how quickly we move services back into our buildings. It will be a process that I want to encourage you to join me in praying about.
The first step in this process will start this Sunday, May 3rd. We will be having the first ever drive-in service in our church's history this Sunday morning at 11:00. You might be thinking, "What is that going to look like?"


Here are some things to keep in mind for the drive-in service.
Everyone must remain in their cars while on the church property.
After parking, turn off your car and roll the windows down.
The cars will face toward the Adventist church/Venus, and be parked like a checker board pattern, to ensure everyone can see the service.
My family will be set up under the carport to provide special music.
I will be preaching from the bed of my pickup truck.
We will have an usher set up for anyone who would like to give an offering as you drive out after the service is over.
I appreciate everyone's patience and understanding as we continue to go through uncharted territory as a church family. If you have any questions about the drive-in service please feel free to give me a call on my cell phone or send me a text message.
April 1st Update
Hey Church Family,
I wanted to update everyone as to how our services will go for the month of April.
Based on President's Trump's social distancing and recommended guidelines through April 30, we will NOT HAVE ONSITE SERVICES. I am extremely sad to be typing this out, but that is what we must deal with right now.
We will continue to have our morning services at 11:00 each Sunday live through our Facebook page.
Click here for the link to our Facebook page, or copy and paste this address into your browser: www.facebook.com/fundamentalalvarado.
Although the church body will be separated for a short period of time, God is nonetheless present, active, and at work. We pray for God's mercy and trust His control in times like these. Thank you for your prayers, understanding, and cooperation as we continue on with the help of our God. I thank God for each of you.
--Pastor Paul
---
March 17th Update
In light of the briefing that President Trump made Monday, 3/16 (He asked that a gathering of no more than 10 people be at one place), all in-person services and activities for our church will be cancelled for the remainder of the month of March.
There will be services live-streamed on our church's Facebook page on the following days:
Wednesday, March 18 at 7pm.
Sunday, March 22:
11am--family worship.
6pm--children's service.
Wednesday, March 25 at 7pm.
Sunday, March 29:
11am--family worship.
Click here for the link to our Facebook page, or copy and paste this address into your browser: www.facebook.com/fundamentalalvarado
At the end of the month, we will see what the latest advice is from President Trump and the CDC regarding the recommended guidelines for public gatherings.
Online giving—Although the next few weeks will involve unique formats for the services, the ministry responsibilities, both locally and around the world, will continue. Let's be faithful in our giving. (You can give securely online at www.fundamental.church, just look for the logo on the bottom right of the homepage). You can always mail your tithes and offerings to the church: PO Box 472, Alvarado, TX 76009.
Member Needs—If you have a need that is related to the Coronavirus, please contact Pastor Paul either via email or on his cell phone. You can also visit the Contact Us tab on the website.
***See below for the original post on 3/13 ***
Hello Church Family,
I just wanted to take some time and address the current situation with Coronavirus and the response of Fundamental Baptist. I realize that the circumstances are escalating around this virus outbreak at a fairly rapid rate. Because of that and because of the unknown, many of you may have fears or anxieties about what this all means. As a follower of Jesus Christ, we can rest in the assurance that no matter what the future may hold, we are secure in Him. John 16:33 tells us this: "in me ye might have peace. In the world ye shall have tribulation: but be of good cheer; I have overcome the world."
I also want to address this issue of fear and anxiety. I believe that fear is one of the greatest weapons of the enemy. So many times we face the unknown and we are gripped with fear. For some, this fear and anxiety can be crippling. It is a very real issue that should not be taken lightly. Matthew 10:28 tells us, "fear not them which kill the body, but are not able to kill the soul: but rather fear him which is able to destroy both soul and body in hell".
Our enemy is not the Coronavirus. I urge you to stay calm in the face of this virus. As a believer in Christ we understand that He is fully in control. The hysteria surrounding this virus causes more fear. Let us not contribute that reaction by sharing unverified "facts" about this virus or joining in the doomsday chorus.
Still, while we should not fear it, we must be prepared for what this may bring. Countless passages in Scripture tell us that, even as we trust that God is in control, we should be wise and seek to be prepared for anything that we may face. Follow the advice of our healthcare professionals (www.cdc.gov). Use good hygiene practices. I believe it is best to not shake hands with others or hug others while at church. Feel free to wave, show the peace sign, or simply say, 'Hi."
If you are not feeling well, do not attend any service, please stay home. If any of your children are not feeling well, please keep them home too. While I appreciate the desire to be at church, coming while not feeling well is not a wise decision. We have hand sanitizing stations; please use them as you pass by.
As far as the plan for Fundamental Baptist, we are monitoring the situation. I have spoken to our mayor, several other local church ministers, as well as our deacons and church leaders. I have also read what both President Trump, as well as Governor Abbott have said about this pandemic.
After much counsel and prayer, I have peace about meeting this Sunday morning. However, I must suggest a few modifications to our social behaviors when we meet. The meal for our church's 74th anniversary is CANCELLED, along with the afternoon service—we are having Sunday School at 10:00am as well as our morning worship at 11:00am, on March 15, 2020.
As always, we also offer ways for you to give online at www.fundamental.church, just look for the logo on the bottom right of the homepage. You can always drop your tithes and offerings in the mail to: PO Box 472, Alvarado, TX 76009.
Most importantly, remain in prayer for this ongoing situation. While there may be some overhyping of the fear, this is also a very real and potentially dangerous virus. Hundreds of thousands have been affected worldwide and we should be in fervent prayer for those who have contracted this virus or been in contact with it in some way. Pray for our healthcare workers who don't have the option of staying home. And pray for our leaders to make wise choices in the handling of this outbreak.
As always, if you have any questions or comments you can reach out to me personally at pastor@fundamental.church.
In Christ,
Pastor Paul